Stephen Sondheim was, by acclaim, the best composer/lyricist of the latter half of the 20th century, his name up on the marquee of Broadway titans along with Irving Berlin and Cole Porter. Sondheim died last fall at the age of 91, and in tribute, the Depot Theatre in Westport opens its 2022 summer season with PUTTING IT TOGETHER, a musical revue that cleverly spins a story out of songs plucked from a cross section of Sondheim's copious canon.
If the story itself is a bit hackneyed — money can't buy love — it scarcely matters any more than a plain tablecloth beneath a sumptuous Sunday brunch. It's the musical fare that is important, and TOGETHER is a hearty compendium drawn from some of Sondheim's most notable shows.
Sondheim was more critically acclaimed than publicly popular, perhaps because he was always trying something new, never falling back on a tried-and-true comfort zone, as did his mentor Oscar Hammerstein. His most popular song, "Send in the Clowns," was a lonely introspective of opportunity lost, not the toe-tapping and starry-eyed wind sweeping down the plains that musical fans tend to prefer.
In the opening Invocation and Instructions from The Frogs, the narrator (Hunter Nichols) tells the audience to refrain from humming along to the songs, a self-deprecating quip in response to the frequent criticism that Sondheim's tunes were "not hummable."
Sondheim, who broke into the business writing the lyrics for WEST SIDE STORY and went on to create memorable shows including A FUNNY THING HAPPENED ON THE WAY TO THE FORUM, SWEENEY TODD and SUNDAY IN THE PARK WITH GEORGE, is instead remembered for his wordcraft, creativity, and dramatic skill in a genre that does not always lend itself to storytelling.
As a compendium, TOGETHER faces the added challenge of assembling disparate parts into a cohesive whole. It takes place in the penthouse of a wealthy, middle-aged couple whose marriage is growing stale if not downright bitter.
The husband (Adam Michael Tilford) is a soulless caveman, lacking a moral compass, fixated on personal gain with little in the way of manners and class. Think Bill Barr after a couple of drinks.
His wife (Elisa Van Duyne) is a classically dissatisfied, tightly wound mess, and whether her husband made her that way or she had tendencies in that direction to begin with is largely beside the point, and the only question becomes whether the Prozac will trigger the right mechanism in time enough to save her marriage.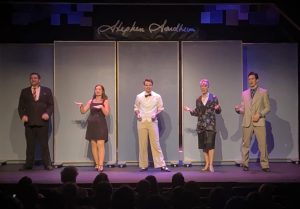 We've all known men like him, we've all known women like her and we've all known couples like them. They are happy, they tell us as Sondheim's works begin to unfold, they are "rich and therefore happy."
Or not.
They talk of trying to buy their way out of their misery with new houses or new lifestyles and the like, and resorting to the bottle when all else fails — which is pretty much all the time. Their foils at the party include a young, gold digging bimbo (Lauren Gunn) and a pleasant and earnest fellow (Roman Matusiewicz) who may be the only well-adjusted character of the four. Rounding out the cast is the insightful and somewhat naughty waiter/narrator responsible for comic relief and for providing what little spoken word there is.
With nothing in the way of actual dialogue, it falls on the actors to create a continuity of character in order to make PUTTING IT TOGETHER feel as if it has a cohesive storyline. Not an easy job, but one the cast handles well enough to make us relate.
Van Duyne is a wonderfully polished performer whose nuance makes us, by turns, feel sorry for her, feel embarrassed for her, feel connected to her and at one point feel that someone needs to sit her down and tell her to suck it up. As a neurotic bride getting cold feet, her hyper-amped patter in GETTING MARRIED TODAY would make Gilbert and Sullivan's modern major general proud, and is a highlight of the show.
If this marriage is to be saved, the husband will have to change, and Tilford's evolution of his character is well-executed and a bit of a victory for men in general, as an argument that even boorish males are capable of a little self-reflection.
Gunn gives a deliciously flirty performance, as she titters that spelling is not a strength, even when it comes to her own name, and pursues men and diamonds with equal enthusiasm. This foul temptress has her own decision to make, whether to marry for love or money. If love is to be the choice, her own devoted date will serve, and in his first professional performance, Matusiewicz demonstrates the voice and presence to become a welcome addition to the stage.
It is the Puckish waiter Nichols, meanwhile, who breathes life into the show at critical junctures, always at hand with a feather duster for the ladies or, most notably, in his show-stealing rendition of BUDDY'S BLUES.
PUTTING IT TOGETHER is, at root, a delivery system for Sondheim's genius, his three-dimensional lyrics and his understanding of the human condition. For those familiar with his work, the Depot's show is a trip down memory lane; for those who are new to him, a world of clever wordplay and character complexity awaits. For both groups, it is a perfect way to honor a titan of the theatrical world.
The show runs until July 17, 2022. GET TICKETS NOW!
Tim Rowland contributed this review by the request of, and in collaboration with the Depot Theatre. Rowland is a journalist and New York Times bestselling author, whose humorous commentaries explore an eclectic variety of subject matter, from politics to history to the great outdoors. He

and his wife Beth live on the Ausable River in Jay, N.Y.