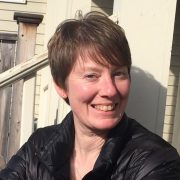 KIM RIELLY, EXECUTIVE DIRECTOR
Rielly provides comprehensive theatre management and oversight of staff, budget, programs, marketing, audience development and community relations. 
Her experience includes more than 20 years of marketing and communications, most recently as the longtime director of communications for the Lake Placid-based Regional Office of Sustainable Tourism, where she was an executive team member responsible for digital content development, copywriting, consistent brand implementation, staff oversight, and departmental budget management.   
A native of Westport, she is no stranger to the Depot, having lived in the region for the majority of her life, and volunteered for several terms as a board trustee, including one year as president. 
Rielly lives in a studio tucked in the woods of Moriah with her husband, Kevin Boyle, without whom she enjoys golf, and with whom she enjoys motorcycling, kayaking, hiking, cycling, skiing and other outdoor pursuits. 
KEVIN COCHRAN, PRODUCING DIRECTOR
Cochran defines and implements the artistic mission and program goals of the Theatre in collaboration with the board and staff, and supervises artistic and technical staff and volunteers during the production season.
He has a wealth of experience in theatre production, having co-founded and served as the Artistic Director and CEO of the Grove Theater Center (GTC) in Southern California since 1994, and serving as Producing Artistic Director for the Moss Hart and Kitty Carlisle Hart New Play Initiative. He has also been a financial advisor to theaters across the country. Cochran graduated as a Scholar of the House in theater, design and circus arts from Yale University.
KATIE SHEPARD, BOX OFFICE MANAGER
Katie began working in the Depot Theatre's box office as an assistant in 2012 and became the manager in 2014. She is an editor and project manager for Essex Editions, a small artisanal publishing company in Essex, NY. She also works freelance on many other projects. In 2016, she published her first book, Essex, New York Architecture: A Doodler's Field Guide, co-authored with George Davis. Katie graduated from Willsboro Central School in 2007 and from SUNY Plattsburgh in 2011 with a BA in English literature.